Linda*&*Jeanie
The Hilltop Singer
PO Box 2166

Lebanon, TN 37088

Email us at:
hiltopsngr@aol.com
or
linda@thehilltopsingers.com


Upcoming Performance
Saturday June 13, 2009 - Flag Retirement Ceremony in Pitteburgh, PA
___________________________________________________________________________________________________
POW/MIA WEEKEND 2008
Vietnam Veterans of America Beaver County Chapter #862 presented A Vietnam Remembrance kickoff concert on Wednesday, September 10 (Jeanie's birthday) in Irvine Park in Beaver, Pennsylvania. And how appropriate to have USO performers from that era to start the evening festivities. Linda*&*Jeanie, The HIlltop Singers made 3 tours to Southeast Asia in 1971 and 1972 to entertain the troops and two of these tours included Vietnam. Their song list this night included: Sandman, Where Have All the Flowers Gone?, Cool Water, Amy, Davey's Come Home, Colors, Black Water, If I had a Hammer, Jet Plane - these were the "oldies" presented to an appreciative audience. Various artists performed in turn on the big white Gazebo - yellow ribbons and American flags were everywhere.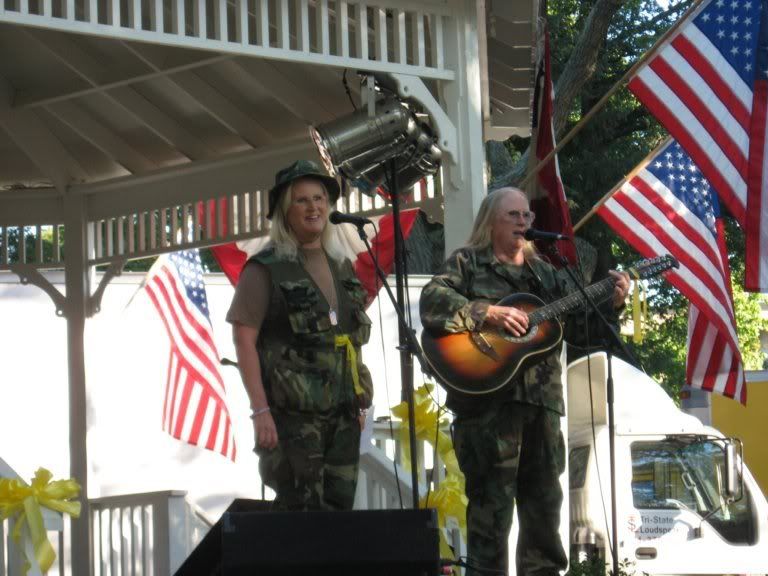 Thursday, September 11, the Moving Wall, the half-size replica of the Vietnam Veterans Memorial in Washington, D.C. was set up in Quay Park in Beaver. The opening ceremony included rededication of the 25-year-old memorial to the Beaver County soldiers lost in Vietnam. It also featured speakers, including Donald and Gerry Pierce of New Brighton, whose son, Donald, was killed in Vietnam in 1970. The most solemn part of the evening was a reading of the names of 73 Beaver Countians who died during the war. A bell tolled for each of the dead. Relatives or friends of each soldier were escorted from a seating area to the wall, where they placed a white rose onto an American flag. The evening ended with Linda*&*Jeanie singing Sounds of Silence, Only the Name (This song was written by Jeanie just prior to a millennium performance for the Vietnam Helicopters Pilots Association in Washington DC. Featuring Jeanie's rich alto voice, the sweet harmony of Linda completes the sound that brings tears to the listener's eyes. The message is of an American soldier who had dreams of love, children, holidays and service to his country that all came to an end as his name is written on the wall and only the name remains of his life.) and Liberty's Bell (The girls sang this upbeat song in every USO show they did during the Vietnam War. You can just
visualize American flags in abundance and spirits ever so high -- 'let their lives not be wasted nor their cause be forgot -- for the sound of freedom is the cause we have fought --.').
The Moving Wall was open to the public around the clock from 7pm Thursday, September 11 to approximately noon on Monday, September 15. There are 58,260 men and women whose names are on the The Moving Wall and the Vietnam Veterans Memorial, including 73 area men.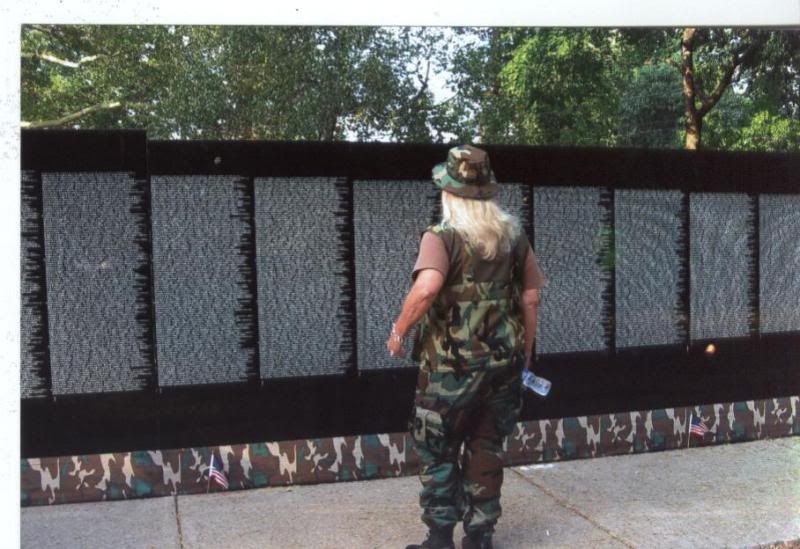 Saturday, September 13, was the POW/MIA service in Quay Square, where a few thousand people waving flags and glow sticks gathered for the ceremonies honoring Vietnam War Veterans. Then an estimated 1,700 motorcycle riders roared down Third Street. In addition to the bike rally, there were a handful of musical performances and speeches. One of the more emotional moments came when Patricia Kalish shared the story of her son, Ralph Moreira Jr., who grew up in Beaver Falls. His helicopter was shot down over Laos in 1971. At first she was told he was missing in action. Months later she was informed of his death. It took 19 years, however, before his remains were recovered. While grateful, she said, "There's no such thing as closure, really." The POW/MIA service ended with Linda*&*Jeanie singing Scarborough Fair, Freedom's Star, and In Spirit at the Wall (After our visit to the wall, Jeanie felt compelled to write this song).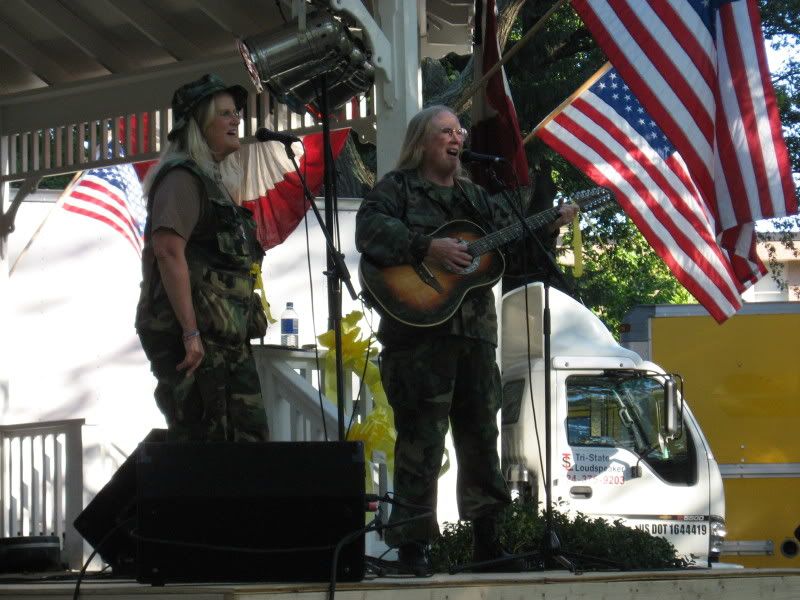 LINDA*&*JEANIE continue to serve their country by singing for patriotic events and Vietnam Vet reunions and any occasion where the audience appreciates the sound of the oldies. I hope you enjoy our website and seeing the pictures from our shows.