Millennium Reunion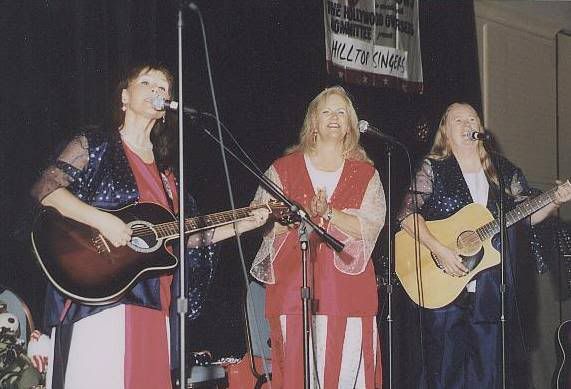 The Hilltop Singers performed for the Vietnam Helicopter Pilots Association millennium reunion on July 1 at the Renaissance Hotel in Washington DC. This organization (VHPA) hosts a membership of over 10,000 and continues to look for potential members that fit their criteria. TRISH * LINDA * JEANIE - THE HILLTOP SINGERS - have been asked to return next year to perform in Denver at their annual reunion.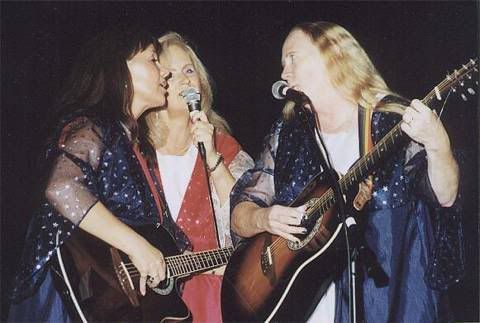 Jeanie moved closer to Trish and Linda to perfect the blend of their new song "Only The Name."
Featuring Jeanie's rich alto voice, the sweet harmonies of Trish and Linda completed the sound that brings tears to the listener's eyes. The message is of an American soldier who had dreams of love, children, holidays and service to his country. That all came to an end as his name is written on the wall and only the name remains of his life.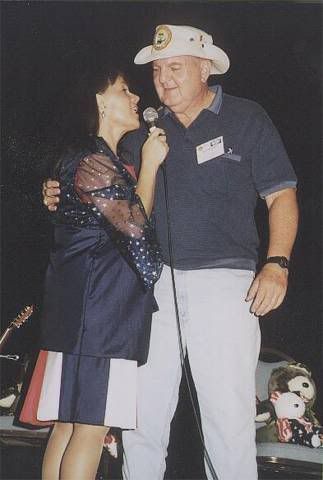 Trish sings her solo "I'll be your baby tonight" to a happy volunteer from the audience.