Beaver County VVA #862
Opening ceremony for the program of events provided by the Beaver County Chapter 862 Vietnam Veterans of America was Wednesday, September 18, which included the lighting of the eternal flame and presentation of wreaths at the Moving Wall.
LINDA*&*JEANIE were the luncheon guests at the Baden American Legion Post 641 in Pennsylvania for the 15th Annual Beaver County POW/MIA Recognition Day on Thursday, September 19, 2002 at 11:00 A.M. More than 1,900 Americans never returned from Vietnam. Their bodies were swallowed by deep seas, scattered along with metal fragments of fallen planes or kindly buried by wild green growth. The girls closed the luncheon with their stirring rendition of Taps sung a cappela in unison.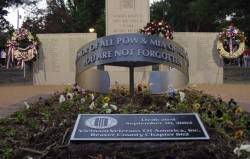 Friday, September 20, was National POW/MIA Day with approximately 1,700 riding in a motorcycle procession "Ride to the Wall" - starting the evening POW/MIA Ceremony. The crowd held 3,000 candles for the men as bikers began to wander in the park, candles so bring their flames seemed to reach the heaven.
Skip Haswell, president of the Beaver County Chapter of the Vietnam Veterans of America, walked to the microphone in Quay Square with a message for everyone holding a candle and for everyone those candles were being held for.
"They say a man is not dead until he's forgotten," he said. "We shall never, ever forget." The Moving Wall was open 24 hours a day for visitation. There was a reading of the 101 names of POW/MIAs from Pennsylvania. LINDA*&*JEANIE completed the evening by singing to a crowd of nearly 4,000.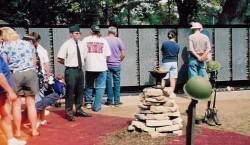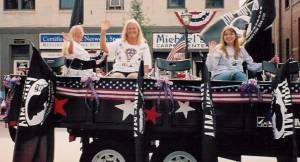 Saturday, September 21, was the Beaver Bicentennial Parade starting at 11:00 A.M. LINDA*&*JEANIE rode in the POW/MIA truck carrying the POW/MIA flags and waving to crowds applauding enthusiastically. Patriotism is high in this part of the country.
Around 1:00 P.M., LINDA*&*JEANIE performed for an
hour and a half to
the people
gathered at Quay Square Park in Beaver, PA. They were joined for the entire show by Guy Almerico from Philadelphia, Jeanie's former singing partner from the Keys.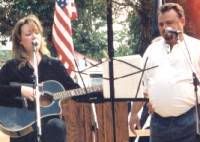 They were followed by Tanya Link, a country music friend of theirs from the area.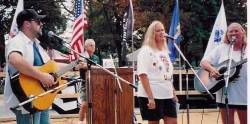 Sunday, September 22, LINDA*&*JEANIE provided the music for the Sunrise Service at the park and parted from the VVA 862 with many fond memories of a community strong in their love for their country.