National Independence Day Parade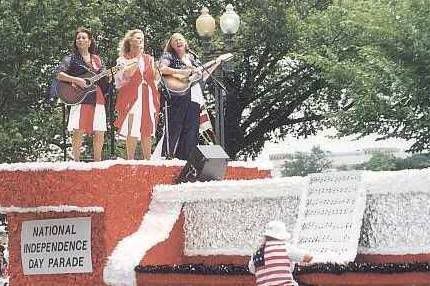 It is estimated that approximately 400,000 people saw the National Independence Day two-hour parade in Washington DC on July 4, 2000, - a millennium spectacular event. The weather cooperated reasonably well with the mercury only hitting 84 degrees, although the humidity was 69 percent at the time. Of the 72 units, which included 19 bands and a Belgian contingent, one special red and white piano float with moving keys on either side featured THE HILLTOP SINGERS TRISH * LINDA * JEANIE singing their own songs entitled "Liberty's Bell" which they sang in every USO show they did during the Vietnam War and "Only the Name" - a song recently written and recorded because of this trip to the capital.
The crowds cheered and the harmony abounded as the girls carefully balanced themselves high atop the float and waved to the masses gathered on Constitution Avenue from Seventh Street NW to 20th Street NW. The people were there to declare and renew their appreciation for this land wherein they live. American flags were abundant and spirits were high as the upbeat music of "Liberty's Bell" was heard --- 'let their lives not be wasted nor their cause be forgot - - - for the sound of freedom is the cause we have fought -----'.
As the float passed the reviewing stand on the elipse, the girls were singing "Only the Name". Featuring Jeanie's rich alto voice, the sweet harmonies of Trish and Linda completed the sound that brings tears to the listener's eyes. The message is of an American soldier who had dreams of love, children, holidays and service to his country that all came to an end as his name is written on the wall and only the name remains of his life.
The end of the parade featured the Vietnam Helicoptor Pilots Association members and families - 2500 strong - many dressed in their uniforms of 30-plus years - making their statement in our nation's capital - our Vietnam veterans have come home. And THE HILLTOP SINGERS TRISH * LINDA * JEANIE were there to cheer them on!!
---
National Independence Day Parade directed by everythingforevents.com.

---