VIETNAM VET REUNION IN ALABAMA
"Welcome Home Brothers and Sisters" was the theme of a recent gathering of Vietnam Vets near Mobile, Alabama.

Registration started at noon on July 26th and the event lasted through Sunday, July 29th, and was open to any and all veterans who served during the years of the Vietnam War. Donations were accepted to fund programs conducted at VA facilities in Alabama, Mississippi and Florida. The rendezvous point was at Chickasabogue Park in Saraland, Alabama. LINDA*&*JEANIE, "The Hilltop Singers", a USO show, performed each evening for two hours on a covered outdoor stage with an American Flag hanging on either side and a backdrop - a larger American Flag hanging on either side and a backdrop - a larger American Flag - torn, tattered, and faded, which was borrowed from a museum in Washington D.C. - the last flag to fly over Khe-Sanh. The Flag was flown throughout the attack (Tet offensive) on Khe Sahn.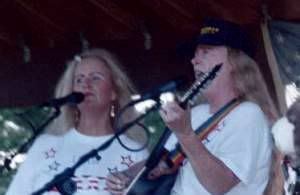 A Gulf Coast Bar-B-Que was held following the show and it was a time of fellowship for a bunch of good folks, with their families, sharing with each other, helping each other, enjoying each others company and enjoying the music from the '60's and '70's as sung by LINDA*&*JEANIE.


LINDA*&*JEANIE, THE HILLTOP SINGERS, are two sisters who made several USO tours during the Vietnam War. They were part of a special memorial ceremony recently in Mobile, Alabama, for those who died in Vietnam and those who are still missing in action. This memorial service was held on Saturday, July 28th, at noon to honor the more than 58,135 Americans who gave their lives and the more than 2,440 Americans still listed as missing in action. On the Mobile/Baldwin County Memorial - the names of 143 men from Mobile County and 32 men from Baldwin County who were killed in Vietnam are engraved on the granite. Many Vietnam Veterans and friends met and shared tears as they built this Memorial - leaving a part of their souls in the heart of this Memorial and LINDA*&*JEANIE could sense their spirit and expressed it in the song "IN SPIRIT AT THE WALL" - as written by Jeanie and performed by the duo each evening.
A military honor guard attended and a wreath placement ceremony took place at the Battleship Park - home of the lower Alabama Vietnam Veterans Memorial, The Battleship Alabama, and "Calamity Jane" (a B52 that flew numerous missions over Nam). LINDA*&*JEANIE carried the wreath and once it was placed securely, they turned and faced the crowd and sang taps acapella. Many have said that they never heard a more beautiful rendition to a tune that is so frequently heard during military life.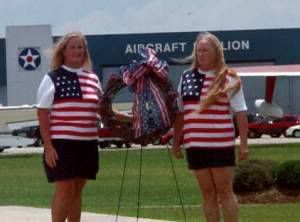 As the weekend drew to a close, such a warm feeling filled our hearts. The joy of fellowship will long be remembered, and we look forward with anticipation to being a part of this get-together next year in Alabama. These wonderful people in Alabama give new meaning to the phrase "Southern Hospitality".








Page updated December 2008