Department of Defense Tour
May 8-June 27, 1971
(Japan, Korea, Guam, The Philippines, Okinawa, Marcus Island, and Iwo Jima)
Whenever we got a day off, we were still singing! On this particular day, May 24, 1971, we were asked if we would like to visit an orphanage - "The Song Jook Won Orphanage" in Seoul, Korea, and sing for them. It turned out to be a "double" sing-in.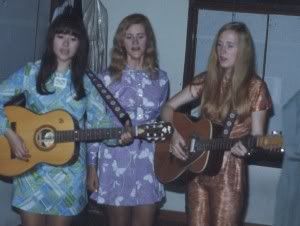 Trish*Linda*Jeanie
There were about 50 girls at the orphanage, and Stan Bronson, a folk singer, who had been drafted into the US Army, spent four months practicing with these girls, and helped them make a record called "Daddy Big Boots and The Tender Apples". All the proceeds from the record went to the girls. This is one of a million situations where a serviceman decides to spend his free time working at something worthwhile for the good of mankind.
We spent the afternoon singing for the girls and with the girls. And we taught them a song while we were there. Trish is writing the words to "The Water is Wide" on the chalkboard.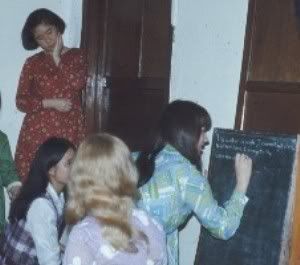 And Jeanie is teaching the chords to this young Korean guitar player.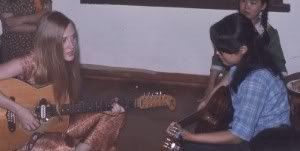 Besides learning a song, The Hilltop Singers and the children have learned a lot about people and how to give something of themselves to others. This was one of the major highlights of our Department of Defense tour that we will never forget.
'The Hilltop Singers' Sing Out Wednesday
The United Service Organization (USO) will present "The Hilltop Singers" at Clark Wednesday. The three-girl group of coffee house singers will perform at the base hospital lounge at 2 p.m. For those patients who can't be moved to the lounge, the trio plans to make special trips.
The singers will perform at Kelly Theater at 7 p.m. They present a program of folk, pop, and country and western music.
The girls explain why they are touring overseas: "If the troops can't go to the coffee house, let's take the coffee house to the troops."
Miss Linda Carpenter is the group's manager. A registered nurse, she still had time to spend a year in Saigon. Miss Jeanie Carpenter is studying to be an anesthesiologist while working as an operating room technician. Miss Trish Starkey, a nurse's aide, is studying to be a registered nurse.
Article found in the "Philippines Flyer", U.S. Air Force - Aerospace Power For Peace, June 18, 1971. (Vol. XVIII, No. 24, Clark AB, R.P.)
---