Meet Trish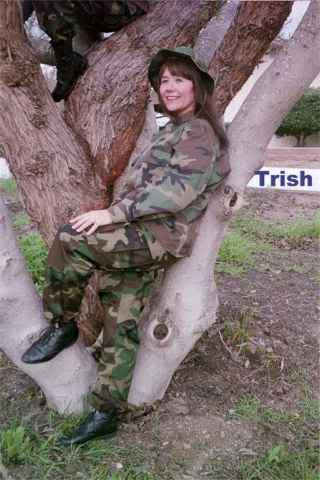 Patricia Ann Starkey, forever after to be called "Trish", was born in New Martinsville, West Virginia, and lived the first couple of years of her life in Smithfield, West Virginia, (Stout Run), which - as she will tell you - was a luverly little holler out of Smithfield. And then her family moved to East Liverpool, Ohio, to raise the little rascal along with two brothers and a sister.
In her early youth, her family was always apickin' and agrinnin'. It just seemed the natural course of events that she would also - cause she loved to sing and play. She started getting serious about guitar in junior high and taught herself with a guitar book with chords in it.
Ken Robbins, a childhood friend from elementary through high school, taught her how to finger pick, and he used to go to her house to practice with her. Ken was quite an influence on Trish because of his love of music and his ability on banjo, mandolin and guitar.
She recalls sitting in her room with record player and learning '500 miles' with Peter, Paul and Mary. She would play it over and over until she got the guitar part down perfect. Her parents must have gotten tired of hearing it - but never said so!!
Then in high school she met Ron Rowley, who played with Ken at the Minstrel Show at Westgate School, and other things. So, after getting to know Ron, the trio started singing together for fun. They became "Ken and Ron, Plus One" and performed at the Minstrel Show.
Then she sang a song at the spring choir concert that a friend, Linda Pratt Orr, had written. She was in the Music Appreciation Club in high school, so the teacher asked her to sing it there. That was thrilling for her. She did play trumpet in band, and loved that. But, the singing and guitar were her two loves, and still are! She tells us that "The Hilltop Singers have fulfilled my life and love in singing."
In 1968, she joined Linda and Jeanie in Morgantown, West Virginia, to attend West Virginia University. We started singing as a trio for the fun of it. It was a medical student living next door to us in the trailer park that suggested we go to "The Last Resort" to perform. Then after much singing on college campuses and fairs in the neighboring states, we applied for the Department of Defense tour and got word on Trish's birthday that we would get to make the Pacific Hospital Tour. We left the day after her last final.
Trish has a son and daughter, three stepsons, and four grandkidlets and is a registered nurse and clinical coordinator on the cardiac unit at a community medical center. She has always been one to "tug at your heart!!"
Now that The Hilltop Singers are back together, one of Trish's frequent comments on our day-to-day happenings and our refound harmony is "I LUV IT!!!"